Cannabis edibles take many forms, including snacks, sauces, dressings, beverages, and more. Particularly popular edibles include brownies, cookies, and cannabis infused candy.
Regulations prohibit many states, including California, from calling it "candy" on the packaging. Instead, makers of cannabis infused confections use a variety of other words – sweets, chews, drops, and lozenges to name a few. Here are some of the best cannabis infused candy that customers love.
Kiva Confection Chocolate Bars
Kiva Confection has been around since 2010 and is one of California's most recognized cannabis companies. While they make a variety of cannabis infused candies, their chocolate bars are their most well-known products. The bars, made by expert chocolatiers, are available in numerous flavors, including churro milk chocolate, blackberry dark chocolate, and toffee crunch dark chocolate.
Delta 9 Chocolate
Another one for chocolate lovers is Delta 9 chocolate bars. Each bar, actually a triangle, contains nine pieces. Each piece contains 10 milligrams of pure THC. While Delta 9 doesn't have as many flavors as Kiva, you still have some tasty options – classic chocolate, salted caramel chocolate, and espresso crunch. The company also has a sugar-free CBD chocolate, which contains four pieces of chocolate each with 25 milligrams of CBD.
Punch Edibles White Chocolate Bars
For those who prefer white chocolate, Punch Edibles white chocolate bars are amazing. Each bar is divided into nine servings, each with 10 milligrams of THC. Flavors include key lime, strawberry cheesecake, and peaches n' cream.
Flav Gummies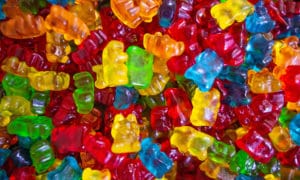 Flav, previously called FlavRx, is a company that creates a variety of cannabis products, including concentrates, powdered drinks, flowers, oils, and edibles. Amongst the edibles are THC and CBD gummies, available in 13 sweet and sour flavors. You'll find well-known shapes such as gummy rings, bears, worms, and belts available in flavors such as watermelon, peach, and apple.
Wally Drops
Previously known as Wally Ranchers, Wally Drops has been crafting CBD and THC lozenges since 2015. THC lozenges contain 100 milligrams per package (10 milligrams per piece) while CBD lozenges contain 50 milligrams per package. Flavors include grape, blueberry, cherry, tangerine, strawberry cheesecake, pina colada, and honey.
Rayne Drops
Rayne Drops, from Curiously Cannabis, are cannabis infused hard candies that come in a stylish silver tin. Each tin contains 20 sweet and sour pastilles with only 5 milligrams of THC per piece. The berry, lemon, and orange-flavored candies are free from pesticides and solvents and are organic, vegan, and gluten-free. The company states that its mission is to introduce individuals to cannabis in a safer way. The lower-dose lozenges can be enjoyed whole or broken in half for an even smaller dose. If you're new to cannabis, or even just new to edibles, Rayne Drops are a tasty way to ease your in.
Cheeba Chews
Cheeba Chews are a well-known brand in the cannabis community. These chewy taffies are available in a variety of flavors, including strawberry, sour apple, caramel, and chocolate. They're also available in different varieties – Indica, Sativa, and hybrid. The chews are peanut and gluten-free.
Kushy Punch
Kushy Punch is a locally sourced California brand that formulates high potency cannabis-infused gummies in a variety of fun flavors. If you're looking for full-spectrum cannabis oil, look no further. Kushy Punch delivers every last bit of cannabinoids in each perfectly dosed gummy. Sativa, Indica, Hybrid, and Recover formulas are available so there's a little something for everyone.
These are just a few of the many cannabis infused candies on the market. No matter what they're called, these sweet treats are discreet and provide precise dosages of THC and CBD. Many companies offer multiple products made with different strains of cannabis, allowing you to find the most effective sweet for you. Check out our sassy selection of edibles at Kushism, or ask one of our friendly cannabis experts for their favorite picks.